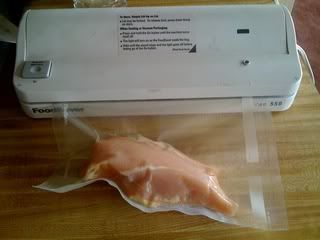 FoodSavers. Are. Awesome.
Half of my battles in being gluten free are because of the huge batch sizes of the really good recipes I keep finding. I just can't eat that much food all on my own. Luckily, I remembered I had a little-used FoodSaver sitting in my cabinet. DUH!
I broke it out this weekend after buying 8 chicken breasts when Henry's had a sale on some organic chicken. It's awesome. I froze most of the breasts individually, but froze some in pairs for larger recipes. No freezer burn, and it lasts months longer than if I had just placed them in a Ziplock. Buying bulk is the way to go if you like saving money over the long run and the FoodSaver is helping me do that. Totally worth the purchase price!